Reach Customers When and Where
They Spend Their Time.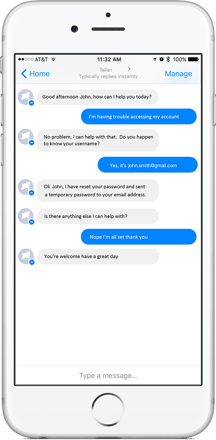 A recent report found that the average adult spends more than 5 hours per day on their mobile device, and 50% of that time is spent within social media apps!1
We create Social Media Chatbots designed to help your organization extend brand awareness, optimize interactions, and convert followers into customers.
Deploy and manage customized Chatbots over a myriad of channels including Facebook Messenger, Slack and more!
Automated, Immediate Customer Support - 24/7
Extend sales efforts by tapping into the 37% of Americans willing to purchase via Chatbot2


*Source:1. Flurry 2. New Voice Media